As some of you know Benelli and I went down to the Pecos river this weekend to do a little hunting. Well, we got skunked on the deer, but had a good time anyways. We ended up camping down on the river, in doing so we found a new use for a lacy!........sleeping bag heater! These dogs are just the right size to shove down a sleeping bag to keep yourself warm, just as long as you dont mind sleeping with a dirty old dog.
Saturday we had been invited to come down to Ft. Lancaster to drink beer and shoot a canon. We thought that sounded pretty good after walking canyons and chasing deer all day. We unloaded all the guns from the truck and headed out. After we got back from shooting the canon we were pretty worn out. We pulled in to camp and saw something running around camp. I realized that your camp had been taken over by javelina! I reach around the back seat to grab a gun to remember we had unloaded the truck. My friend and I were in a mad scramble to get the one gun left in the truck. I jump out with gun in hand just about the same time Ben had see them. I was fumbling around with the gun and trying to call Ben off. Just about then I here my friend shoot, he had pulled out his 44mag and rolled one of them. That javelina was pissed! Ben saw this as his chance to jump on it! Ben had it finshed off in a matter of seconds. Guess I have me a javelina hog dog!
Heres a few pics.....
(daddy you going to shoot them goats?)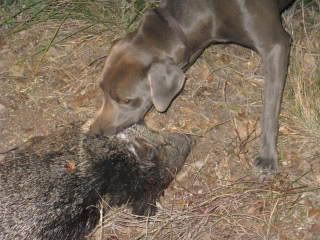 (Javelina dog)
sorry the pics are so big, I'm going to shoot photobucket!