Originally posted on texasbowhunter.com 6/24/07
My dogs and I took our weekly trip out to Burnet this weekend.
We dropped early, maybe 7:15 or so, and worked our way down a road that parallels the creek. More out of lazynes than anything else, we were working the up wind side, easier walking side, of the creak even though we have the hunting rights on both sides.
The dogs were hunting well, getting out in long loops but strongly favoring loops into the wind. As we walked, we were surprised to see an abundance of tracks crossing the road and several times the dogs took those tracks for a short way, maybe 200 yards, down wind but could not work any of them out.
As we worked along, we came up to an aria with a feeder that resided 50 yards or so up wind. the dogs took out to the feeder, passed it up and disappeared into the woods. After several minutes, we felt like we were about to hear a strike but it never came and the dogs came back. They were fired up and working fast, crossed the road toward the creek and then shot back up the other side of the road, into the wind again farther down.
We were about to follow the dogs when we saw movement to our left, down wind about 200 yards out in a clearing. We stopped and watched for a minute before determining that it was a pig so we just stood there and waited for the dogs to come back again. We didn't want to call them because we didn't want to spook the pig so we stood and watched. The pig was working his way in our direction and looked to be pretty big.
When the dogs started to filter back, the pig was at about 100 yards but still down wind. Apparently, he smelled US because he spun around and took off. We walked the dogs down to his previous location and they immediately took track and were gone.
It took the dogs over a minute to catch up to the pig. he was not that far out, maybe 200 yards, but he had crossed the creek so I imagine that is what slowed them down. They were still too far out to release the catch dog so we kept Trina on lead to work closer. Unfortunately, Mr pig decided that he would rather run than stand and fight and by the time that we made it withing 100 yards he was gone again. We crossed the creek, scaled the other side and he broke again, this time strait up the hill. This hill is not a small hill nor does it have a slight grade. I would have never thought that a pig would go up it.
Due to the situation, I cut trina loose. The bay was still to far out, about 100 yards, but I thought that it would be the only way to stop the pig from running.
We got up the hill as fast as we could but it seemed to take forever. Between the grade, the white brush and the pencil cactus, it was hard going. We finally got there and Mike Legged the pig in a very procarious position on a ledge that was only a couple of feet wide and could not flip it. I helped him flip it, held him down and Mike and Kass proceeded to pull dogs out to lead them up.
The pig was none to happy and struggled his butt off trying to get away. As he did, we began to slide down the ledge which was kinda exilerating to say the least. I had a hard enough time without taking a ride down the cliff. As I was trying to get some footing to keep myself ON the ledge, I noticed that Lucifer had laid down behind me and that his breathing was labored. Considering the pigs equipment,I got worried and came very close to killing the pig but Mike checked Lucifer out and said that he would be okay so we proceeded to tie the pig.
In the end, Lucifer had a puncture between his 3rd and 4th rib. he milked it a little but I stapled him up and he is fine. We got the pig out alive and he now resides in our holding pens.
Here are some pictures of Kass posing with him after we got home.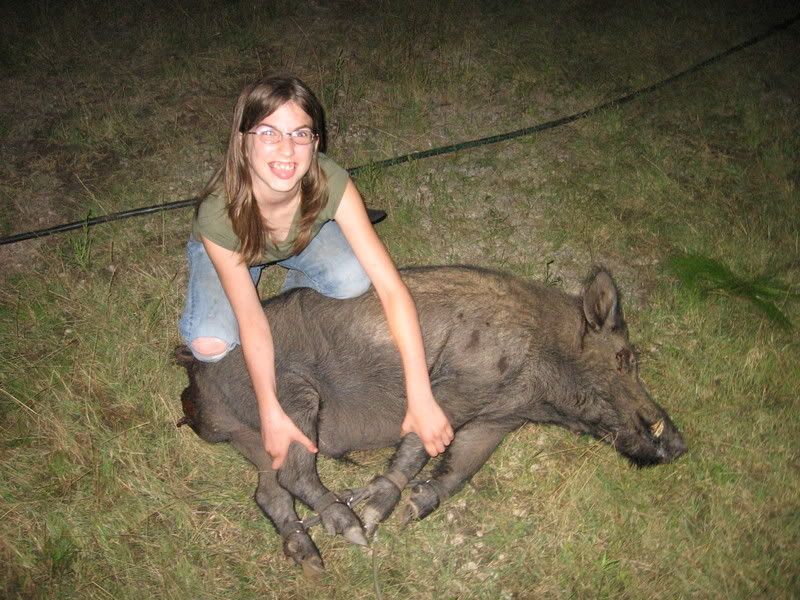 Cutters anyone?
Lucifer took some revenge, I think that it was a tie game!
Steve