Teams are comprised of four members. All four members must hunt together on the same property at the same time. Only dog-and-knife hunting is allowed. Hogs must be caught on free range or low fenced properties. To see the proposed rules and discuss them with TDHA members, visit
http://thenewtdha.com/smf1.5/index.php?topic=333.0
.
The entry fee of $160 covers the main five hog stringer as well as the four bonus divisions. They have updated it since making the entry form, there will be a Heaviest Boar and a Heaviest Sow rather than a single Heaviest Hog. Also, the highest placed team comprised of four TDHA members receives a $100 bonus, so make sure you sign up for 2009.
Pre-registration, available online or via mail, must be completed by noon on Feb. 27. For teams that do not register early, you must sign in between 3 and 6:30 p.m. on Feb. 27 at the Expo Center in Hallettsville. The final rule, which helps ensure the hogs were caught during the contest, will be released at 5 p.m. on Friday. You can hunt from Friday night through Sunday morning anywhere you choose, but you must make it to Hallettsville by noon on Sunday for the weigh-in.
In addition to the image below, you can get the entry form off the TDHA site,
http://thenewtdha.com/tdha/images/2009T ... ryform.gif
.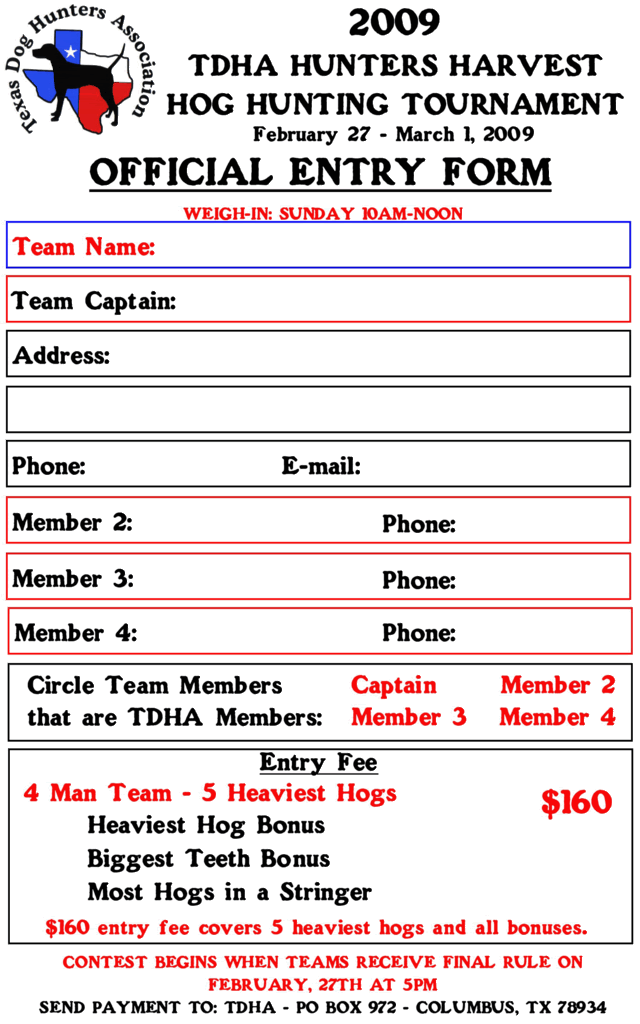 _________________
"You must be a very small minority no matter who you hang around with. Maybe you should start a magazine,
Vegetarian Hog Dogging Monthly
, find some like-minded individuals."
- Inspiration for my next project from TBH
True Blue Lacys:
http://www.truebluelacys.com
More Lacy Pics:
http://www.flickr.com/photos/julieanna/sets/72157605027566732/