Hope nobody minds..We are new to this board. So I was going to introduce our lacys
We have had lacys about 2 years now. We love them.
We use ours to hog hunt, but I have a male pup that is about 10 wks and I am going to train him to blood trail.
I have a male blue lacy, BO, that is approx 6yrs old. He is our main strike dog on hogs, we have to run him with a vest because he is really gritty.
Then I have a female that is 1 1/2 yrs, LACY. She is a hog hunter too. They are great together.
Here are some pictures.
Its nice to see all these other people hunting lacys too.
Katie & Montana Mize
BO
LACY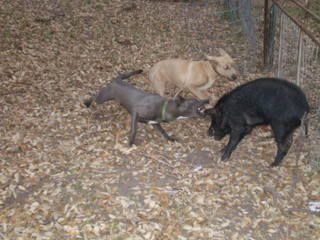 Here is our new litter of lacy pups. Sorry they are all spoken for.