I came across this little blog post today and found in pretty interesting,
http://blogs.dogtime.com/border-wars-a- ... nding-doom
. Granted, this is about Border Collies, but it is applicable to all pure bred dogs. Here is the important part of what he has to say:
"The chart shows the Coefficient of Inbreeding of the entire ISDS Border Collie Gene pool through the years. The solid line looks at only the last 6 generations and assumes that all the dogs in that last generation are in no way related. The Dotted line looks at all generations back to the beginning, also assuming that the original stock is in no way inbred.
The two lines trace each other in the beginning because there simply weren't 6 full generations of data. But the split you see right around 1960 shows that despite the overall trend of breeders to outcross, resulting in the 6 generation line dropping from a high of 4% in the early 1960s down to about 2% in 2000, the real trend within the breed is a skyrocketing line approaching 8%."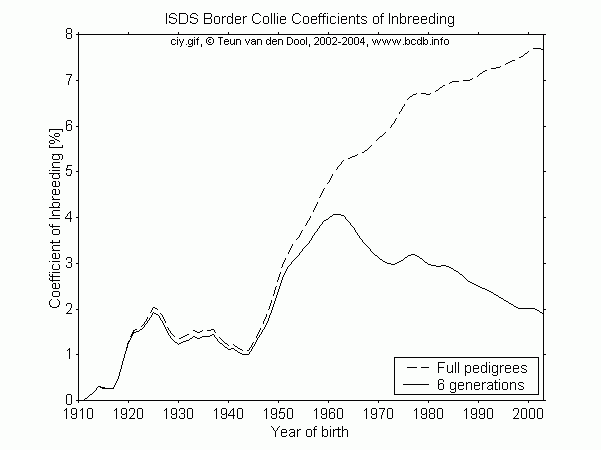 Now think about what this means for Lacys if we've only been following three generation pedigrees. With such limited stock, there is no doubt Lacys are inbreed, yet it is all done haphazardly because people are only ever looking back three generations. This blind breeding is the truly scary part.
_________________
"You must be a very small minority no matter who you hang around with. Maybe you should start a magazine,
Vegetarian Hog Dogging Monthly
, find some like-minded individuals."
- Inspiration for my next project from TBH
True Blue Lacys:
http://www.truebluelacys.com
More Lacy Pics:
http://www.flickr.com/photos/julieanna/sets/72157605027566732/