Historical Lacy Dog Documents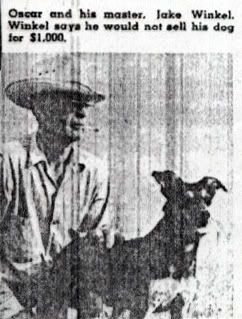 Llano County, Texas, Ranchmen, Who Profit from Wild Range Hogs, Depend on Acorns and Their Hog Dogs
Article and photos by Sam E. Harris
This piece, published in the February 1956 issue of True West Magazine, outlines the origins and working history of the breed. Includes interviews with Ed Lacy and ranchers who relied on Lacy Dogs for their livelihood. "My dog is worth the pay of ten men. Last year I gathered seventy head of fat hogs with my Lacy dog. So you see that dog was worth $3,000 to me in one season." Read the True West article.

Hog Dogs and Their Ranch Uses
Article and photos by Hazel Oatman Bowman
Printed in the May 1942 Cattleman, this is the oldest published document featuring Lacy Dogs. It paints a vivid picture of the gritty working dogs that were the foundation of the breed. "Indeed to many, a Lacy and a hog dog are one and the same. Kinley Murchison, who describes the Lacy simply as a good breed of stock dog, says, 'People call a dog a Lacy if he looks at a hog!'" Read The Cattleman article.

The Saga of the Original Lacy Hog Dog
Letter written by Helen Lacy Gibbs, granddaughter of George Lacy
"After arriving, George and his brothers developed a breed of dog known as the Lacy Hog Dog... These dogs are working animals and are never happier than when working stock." Read Helen Gibbs' letter.

Animal Research Foundation - The First Lacy Registry
Article and description from the ARF
The first studbook for Lacys was opened in 1976 by Tom Stodghill through his highly respected Animal Research Foundation. The ARF's description of the breed asserts "the style of work of the Texas Lacy Cowdog is identical to that of the Catahoula Leopard. Texas Lacys trail, find and bay wild cattle and wild hogs. They are also used for hunting raccoons, squirrels and all kinds of wild animals. They are very fast, calm and fearless." Read about the original Lacy Dog registry.

NEW! Video interviews with Helen Lacy Gibbs


Watch all four Helen Gibbs interviews on Lacy Dogs.